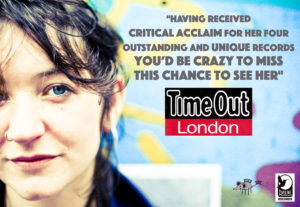 Critically acclaimed artist Ruth Theodore is one of  britain's most innovative and original female songwriters and performers.  At age 5 Ruth Theodore was told that she would never physically be able to play guitar and following a sledging accident, aged 9, that left her unable to speak, singing and playing the guitar were unexpected career choices. Yet by the age of 14 Ruth was earning money as a singer and guitarist, busking in doorways on detuned guitars. Remaining true to her own unique sound and signature guitar style Ruth has gone on to perform her songs and tour alongside legendary artists such as Ani Difranco, Dar Williams, Jane Siberry, Jeff Lang and Hamell On Trial, for packed out venues including The London Palladium, Bush Hall, The Union Chapel, The Borderline and Glastonbury Festival. Ruth's flair for off kilter arrangement and her active interest in the whole process of record making has led her to form collaborations with highly respected international producers and musicians, and release four critically acclaimed solo records to date.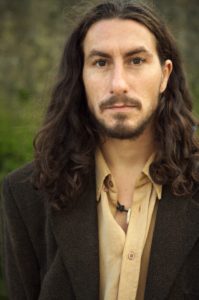 Nathan Ball is an extraordinarily talented UK songwriter, singer, guitarist and luthier. His beautifully written songs reveal depths of humanity and a keen eye for metaphor, while his intricate, finger picking style makes every note from his guitar shine.
A firm favourite on the underground festival circuit, Nathan's poetic lyrics are matched with a powerful and distinctive voice and a rare and captivating guitar style. Following the success of his debut EP in 2009, Nathan was chosen as a finalist in the MOJO magazine New Voice competition in 2011. He then stepped away from the live music scene to concentrate on his other passion, building beautiful acoustic guitars, before recording his debut album 'Stand Up' in 2015.

Victor Menace will confuse you, abuse you and amuse you. It's the original sound of Ninja Folk with its ferociously fast fiddle, howling horns and gritty guitars on a bed of bouncing back-beats. The sheer pace and infectious danceability of this virtuoso band will have you on your feet in no time and dancing like nobody's watching.
'Victor Menace' is the instrumental brainchild of alternative composer and River Rat artist Ruth Theodore (Guardian ****/ MOJO****). Forming the band back in 2007, the sheer pace and infectious danceability, was an instant hit on the festival circuit and within a few years 'Victor Menace', fronted by Theodore on Violin and Alejandro Toledo (The Magic Tombolinos) on sax, was headlining the world music stages at Bestival, Hackney WickED, and Glastonbury's Shangri-La stage. Soon after the release of their self titled debut record, the band sadly split as key members moved overseas and Theodore went on to release a further three acclaimed solo records. But at 3am on New Years Eve 2016, she declared war once more and reformed the band, with the original bassist Mike Limmer (La Chula), Lucien Windrich (eVoid) on acoustic, Haruna Komatsu (No Cars) on Clarinet and Sax, Luke Upperton (Ska-prest) on lead electric, and Arturs Reirs (Eugene "Hideaway" Bridges / Steve Nimmo Trio) on drums. Remembered for their infamously energetic live shows the band were instantly asked back to Bestival 2016 and are now on the rampage.